About Life Mastery Institute
If your dream is to speak from stage, coach others to achieve their dreams, and teach spiritual principles for transformation… then you are in the right place!
The Life Mastery Institute is the premiere training center for transformational coaching. Every day we train and certify coaches from all around the globe to become difference-makers on the planet, and earn income doing it!
How? With our proven business model that you receive on enrollment, you are empowered to achieve your dream of a full-time coaching and speaking business.
Most coaching certifications don't offer this important component! And we have found that this is the component that takes coaching from a "hobby" into an actualized and thriving career!
Meet Mary Morrissey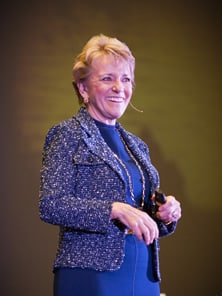 International Speaker, Best-Selling Author, CEO Consultant, Visionary, Empowerment Specialist.
As a speaker, best-selling author and consultant for over four decades, Mary Morrissey's transformational talks and seminars have made her one of the elite teachers in personal development.
As a sought after expert on the "Spiritual Side of Success", Mary has spoken three times at the United Nations, facilitated 3 different week-long meetings with His Holiness The Dalai Lama and met with Nelson Mandela in Cape Town, South Africa to address the most significant issues our world is facing.
Mary has a Master's Degree in Counseling Psychology, and an Honorary Doctorate in Humane Letters and is the author of two best-selling books, No Less Than Greatness and Building Your Field of Dreams which became a PBS special.
Mary is founder and owner of Life Mastery Institute: The Premier Training Center for Transformational Coaching.
As a world-class inspirational speaker, executive coach, and corporate consultant, Mary has 40 years experience of empowering individuals in achieving new heights of spiritual aliveness, wealth and authentic success.
Among all her achievements and degrees in higher learning, Mary's favorites are the two black belts she has earned: one in Success and the other in Failure.
Mary has brought together the highest level of instructors in the fields of coaching, enrollment, and marketing to train and certify heart-centered professional to become DreamBuilder Coaches.
The Life Mastery Institute's mission is to help others build their dreams and live a life that's in harmony with their soul's purpose.
Everything we do at the Life Mastery Institute is founded on Mary and her faculty's decades of experience. The tools we give you are tested and proven. Because of this, your results are predictable. Proof of that is the many successful coaches we've certified.
If you believe that you are here to make a difference, if you have a calling to support others in living a life they love, and if you have a passion for spiritual principles…
Then simply talk to one of our enrollment mentors today!
Take the next step here: Learn More
More Resources:
Prosperity Plus: Mary Morrissey
Huffington Post: Mary Morrissey
Twitter: Mary Morrissey
Amazon Books: Mary Morrissey
My Morning Mentor: Mary Morrissey
DreamBuilder Program: Mary Morrissey
DreamBuilder Live: Mary Morrissey