Training Category
> Life Mastery Consultant Certification
> DreamBuilder Coach Certification
> Programs at a Glance…
> Frequently Asked Questions and Contact
Life Mastery Consultant Certification
The Professional Path:

This is for you if you want our highest level of certification and our top performers are all Life Mastery ™ Consultants. Becoming certified as a Life Mastery™ Consultant means you receive our full training on the four pillars of your coaching business:
1. Coaching and Curriculum
You'll get fully trained on how to coach your clients along with being fully trained and certified in FIVE of Mary's most powerful programs, including:
DreamBuilder™ (12-week program)
Into Your Genius™ (12-week program)
Working with the Law™ (12-week program)
Life Mastery™ (6-month program)
Standing Firm When Your World Is Shaking™ (4-week program)
2. Attraction Marketing
You'll learn the exact strategies for where and how to successfully attract your ideal clients to your life coaching business! This is frankly the fastest and easiest way to grow a coaching business.
3. Heart-Centered Sales
Whether or not you enjoy selling, we give you a powerful system for enrolling clients that truly serves your clients, helping them say YES to themselves and YES to their dreams!
4. Business Building
From how to accept payments to organizing your clients, we'll walk you through the important foundations of growing a successful and profitable life coaching business.
5. Six-Day LIVE Life Mastery™ Consulting Certification
Training where you are fully trained in the four pillars.
6. Hotel and Meals are covered during your Certification Training.
7. Customized Website
All we need is your photo and bio and we'll do the rest!
8. Six LIVE Introductory Online Webinars
Prior to the Onsite Training – Beginning 6 weeks prior to the in-person certification, Mary and her faculty members host live online trainings that are carefully designed to set you up for success at the live training. Meet your faculty and get early access to content and resources, so that when you arrive at the live training you feel well prepared.
9. Live Group Q&A Calls
After your live training, every Tuesday and Thursday for a full 12 months, you have two hours of weekly live support with one of your faculty members, who will answer your burning questions, help you solve challenges and give you strategies so you can accelerate your success.
10. The Vision Workshop™
You're going to become certified to lead this powerful workshop, after which your audience will be telling you how you just changed their lives and they'll be asking YOU what coaching packages you offer. It's an absolutely amazing way to fill your coaching business with your perfect ideal clients. Mary spent more than 20 years developing, honing and perfecting this workshop, and you're going to receive everything you need to deliver it yourself, including: inspiring stories, exercises, a "done for you" PowerPoint and teaching guide.
11. The Life Mastery™ 3 Day LIVE "Alumni" Training
Hotel & Meals Included! 6 months after you complete your initial certification training, you will receive an additional live training designed to sharpen your skills, re-energize your business, and re-connect with your Life Mastery Institute® community.
Dream Builder Coach Certification
The Foundation Path:

If you want to coach others part time, or you want to take a slightly smaller first step, The DreamBuilder ™ Coaching Certification may be the right place for you.
As a Certified DreamBuilder® Coach, you will be certified to coach people through Mary's flagship program, the DreamBuilder® Program, so they can start to experience major shifts and start to see their dreams coming true. The DreamBuilder® Program is so popular and clients love it so much, that most of them will ask you, "what's next?" Most clients WILL want more programs from you.
Just like Life Mastery™ Consulting, you'll receive a deep dive education into the 4 pillars of building a successful coaching business at a 3 Day Live Certification Training.
Prior to your live training you'll also receive the 6 weeks of "Get Ready Webinars."
After your live training you'll enjoy 6 months of Live Group Q&A Calls, your personalized website and you also receive the DreamBuilder® Coach 3 Day LIVE "Alumni" training as well.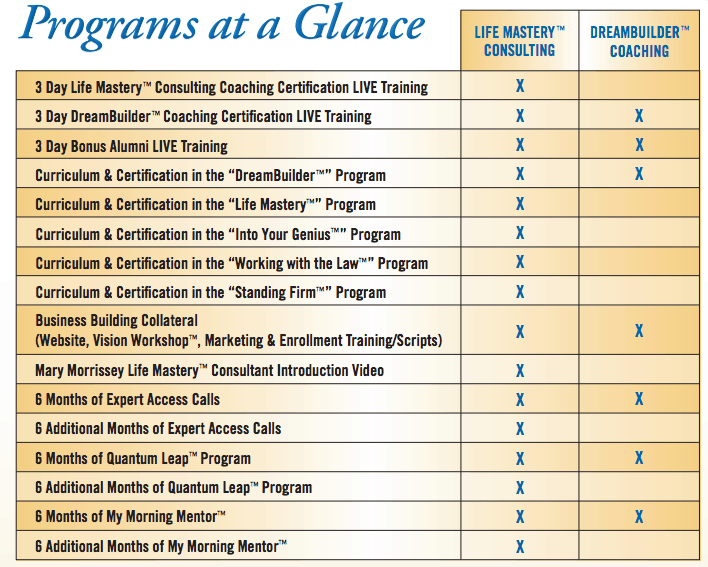 Frequently Asked Questions
What if I've never coached someone before?
Not to worry! That's why you're investing in having a proven coaching curriculum. You'll be trained in how to lead your clients through the proven DreamBuilder ™ Program, which thousands of people from around the world have used to build their dreams. All you have to do is follow the system. You will be given a coaching manual, an instructor's guide and you will be trained on exactly how to lead your clients week by week through our powerful curriculum. You get to relax and feel confident knowing you are supported by a coaching curriculum that is road-tested for over 30 years and has been proven to transform lives.
What if my life isn't perfect?
No one's life is perfect. We are all seeking to grow and expand. If Mary had waited until her life was perfect in every area before she started teaching, there would be no Life Mastery Institute®. The question is, are you willing to grow, learn, and invest in having support to build your dreams. Because that spirit is what allows you to be in integrity when you ask your clients to grow, learn, and invest in their dreams. You only have to be one rung up the ladder to help someone else.
What if I've never run a business?
Many coaches have never run businesses prior to becoming a certified coach with the Life Mastery Institute®. That's why we give you a deep dive training into running a successful coaching business. You'll have peace of mind knowing that you will be supported and trained in what you need to do to set up, protect, and grow your new coaching business.
What if I am not a great public speaker?
Most of our coaches are not professional speakers, especially when they start out. The bigger question is, do you have a passion for helping others?
If you do, then you can build a thriving coaching business with this program. And if public speaking truly isn't your "thing," we're going to teach you several business models to grow the successful coaching business of your design.
What if I don't know anything about marketing or getting clients?
If you have a passion for teaching, seeing other's eyes light up, and inspiring people, that is all you need to attract clients. You will receive the specific plan to create the fastest and easiest path to attracting clients and getting your business off the ground.
What if I am not a very good at "sales"?
The Life Mastery Institute® is one of the world's leading certification companies because we not only give you coaching training, but also give you the economic engine to grow your business. This is an important and massive distinction. No other company gives you the robust proven marketing and enrollment training that you receive at the Life Mastery Institute®. You will learn a proven system for attracting AND enrolling clients in a heart-centered way that will feel great to both you and your new client!
What if I can't quit my job and do this full-time?
You can absolutely build your coaching business part time. Many of our coaches have clients they work with in the evenings and on weekends. You can build your coaching practice over time until you are ready and confident to become a full-time coach or just keep it part-time if that's what you prefer.
What if there is no one in my life that supports me in this dream?
This is even more a reason to enroll with the Life Mastery Institute®. You'll be supported in a community with people who do believe in you, who are on the same path, who can offer you support and encouragement when you need it most, who can share best practices and who are willing to cheer you on along the way. The Life Mastery Institute® coaches enjoy a thriving community of support, encouragement, and love. If you are looking for a place where you can receive world-class training and connect with the most loving generous heart-centered difference makers on the planet, then this is your home!
Here is your next step… If the idea of earning income while you help people build their dreams inspires you, then speak to an enrollment mentor and they will support you in getting started.
This is YOUR time.
This is YOUR moment.