Do you have an important goal or project that you just can't seem to get started on?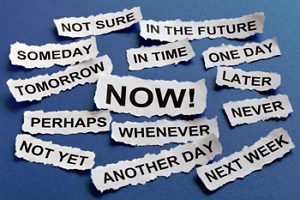 You know you need to get this done – it's an important step toward creating the coaching business and the life you've always wanted to live – but every time you put it on your calendar, you end up replacing it with smaller, easier, but less significant tasks. Something else always comes up, and you keep on telling yourself that you'll do it on a day when you're a bit less busy.
This is a problem that frequently plagues people who are trying to build new and better lives, especially if what they're trying is completely new to them. I recently heard from a young entrepreneur who had been hesitating to launch her first major product. She'd just gone into business for herself earlier that year, and while she was acquiring huge amounts of knowledge, she was hesitating to put it into practice.
Assembling knowledge, making sure everything was perfect, and not moving forward until it was… that was her comfort zone. But as the saying goes, "A comfort zone is a beautiful place, but nothing ever grows there."
So, how did this young businesswoman get unstuck and start moving forward?
She connected with a life coach and a business coach, and started having weekly coaching calls with them. Every week, they would discuss her plans, and formulate action steps. Because she had this accountability, she felt compelled to take these action steps each week, whereas before she could potentially have kept putting them off indefinitely.
Studies have shown that people who make New Years resolutions are far more likely to stick to them if those resolutions are specific, tangible, and made known to another person. Those who must regularly check in with their accountability partner are far more likely to take consistent action than those whose plans (and procrastination!) are known only to them.
Do you have an accountability partner? Or, even better, a mentor? An accountability partner with whom you speak regularly can help keep you in action, but a mentor can also help you ensure that the action you take is the most effective use of your time and effort, so you can move forward with confidence and certainty, knowing you're on the right track.
Here's to always having the support you need!
Mary
If you want to speak to someone about getting support for your dream you can talk to one of our Mentors today by —> Clicking Here